CONTACT US
Tel: 0086 15961653782
Email: info@brightsail-asia.com
Address: No.291 Nan Street,Zhutang town,Jiangyin City,Jiangsu Province,China.
Welcome clients form India to visit our factory
Source: Jiangyin Brightsail Machinery
Date: 2018.08.23
Clicks: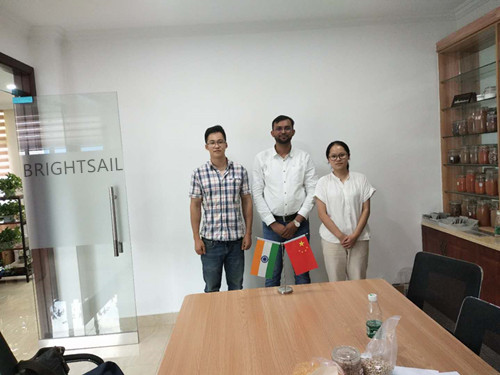 Our clients form india come to visit our factory the day before yesterday.
We talked about spice grinding machines before they come to our company.
And we recommend them BSDF series spice grinding machine.
It's suitable for grinding spices, it doesn't have screen,
and it can make fine spice powder.
First, we took them to visit our exhibition hall.
Then we made a test on BSDF spice grinder with turmeric, chickpea and other spices.
Our clients are very satisfied with the test result.
Finally, we discussed some details.
Hope we will have good cooperation.
Jiangyin Brightsail Machinery